Hey girls…may I have your attention please. Do you feel lost in an ocean of letters and numbers every time you head out to buy a new-fangled bra? Just chill you are not alone in this thorny hitch…64% of the women are wearing wrong size bra; reports Women's Wear Daily.
You may be surprised to know as the bra celebrated it's 100th anniversary in 2014, TRIUMPH, the makers of lingerie announced their mission to fit 100,000 women worldwide. Wearing a wrong size bra can lead to back pain, breast pain, shoulder and neck pain, sagging breasts and what not . So be very carefully while choosing a right bra size for yourself.
If you have no idea about your breast size..don't fret. Wearing a wrong size bra can ruin your image as well as your shape. Check signs of wrong bra size which may be pinching, pulling and sagging. You must recheck your bra size every six months.
A bra with smaller back and an outsized cup size should be taken if breasts are spilling out. The centre of bra must sit between the breasts. If the bra is on the upper side of the back a smaller size is required.
You can even get your bra size on your smartphones, SAN FRANCISCO Bra Company has created a Bra Sizing App that uses your camera to determine your bra size. *COOL* isn't it?If this even doesn't help you..try to take this quiz and be free of all the tensions.
Having a bra that fits you can make you love your breasts even more plus help you look slimmer. You will be amazed to know that 85% support comes from back band and 20% support comes from the straps.
Now, wearing the bra in right manner is also very important. Here is the guide for the same.
Today we have a variety of bra's to choose from and a hundreds of stores to look into. MARKS N SPENCERS, LA SENZA and VICTORIA'S SECRET are some of the very famous lingerie stores across the world.
Choose Your Style:
Push Up Bra
It provides maximum padded lift, plunging v-neckline and underwire support.
Demi Bra
It is cut low across the cup, low-plunging v-neckline with underwire support.
Strapless Bra
It has convertible straps, lined underwire cups with multiple levels of push-up.
Full Coverage Bra
It is lightly lined, sexy lift with supportive straps.
Racerback Bra
It has back forms with t or v shape, versatile, convertible and styled.
sports bra
It provides comfort and support for physical activity.
Bandeau bra

It is a strapless bra, either has elastic or has to fastened from front.
Cupless bra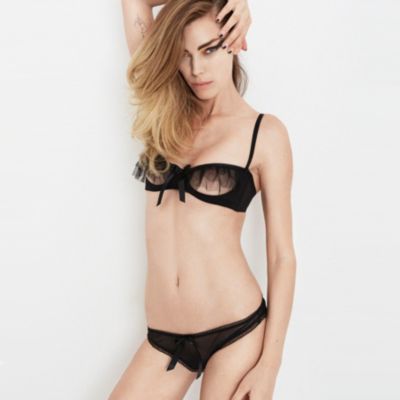 Erotic inner wear, do not feature cups, just a wire frame.
Front closure bra
Hooks on front, flat at back, complete racer look.
Mastectomy bra
For those who have lost one or both the breasts, prosthesis are held in place.
These are some of the popular bra shapes, you can find a wide range of variety in . Choose the right size, stay fit, and love your body 🙂
Comments
comments